Supercharge your new tab.
"I love opening 100 tabs over and over to get info"
- said no one ever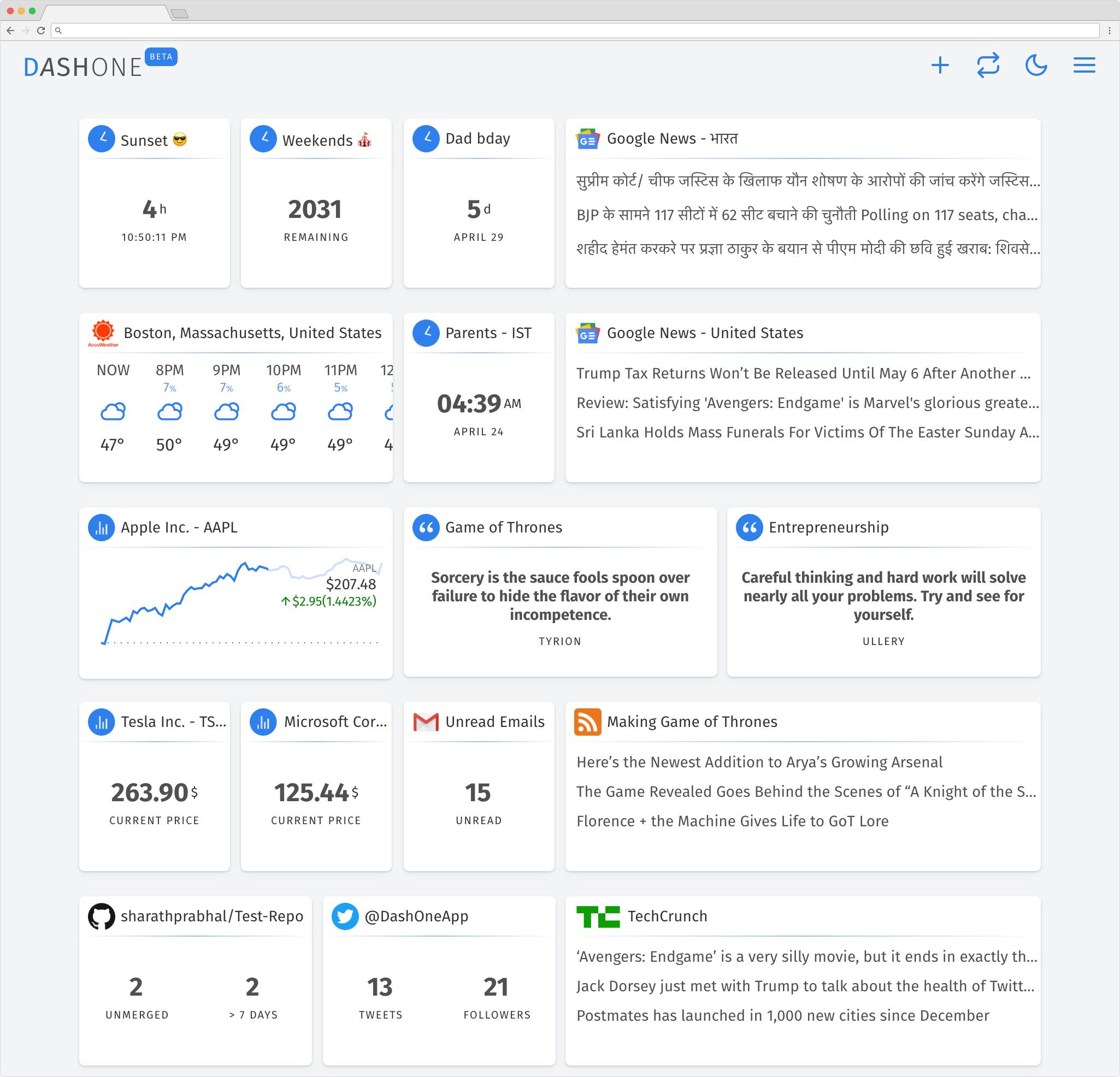 "This browser extension saves me 30-45 minutes every day. All the data I need without opening a 100 tabs."
- Sarah, early user
Features
Our priorities shift rapidly, so should our dashboard
Create, delete and rearrange widgets in a jiffy.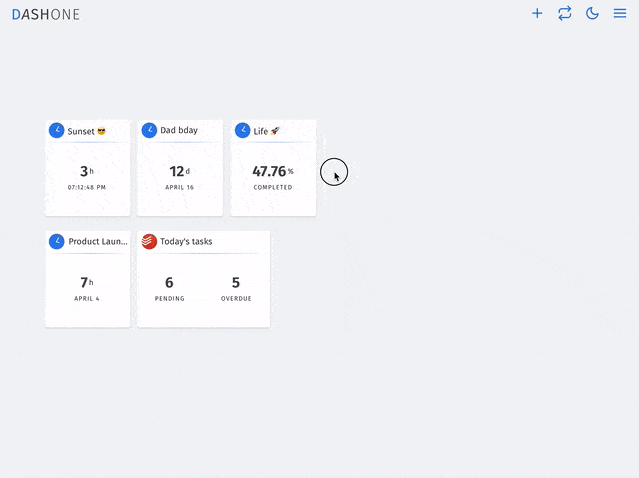 Stay Informed
Stay up to date on what's happening around you and elsewhere.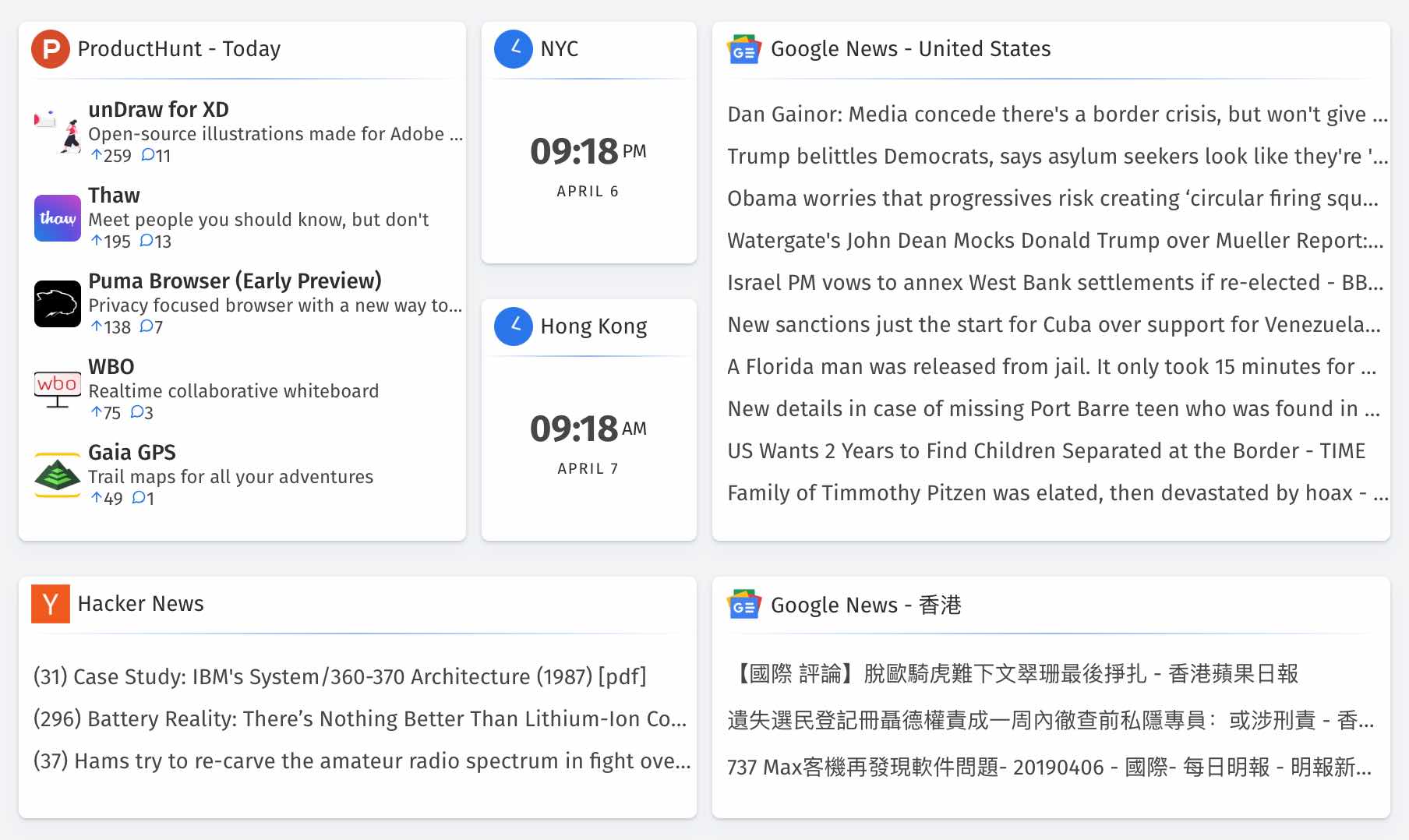 Productive does not mean just work, focus on your wellbeing too
Stay healthy, stay in touch, stay happy. Your wellbeing is important too.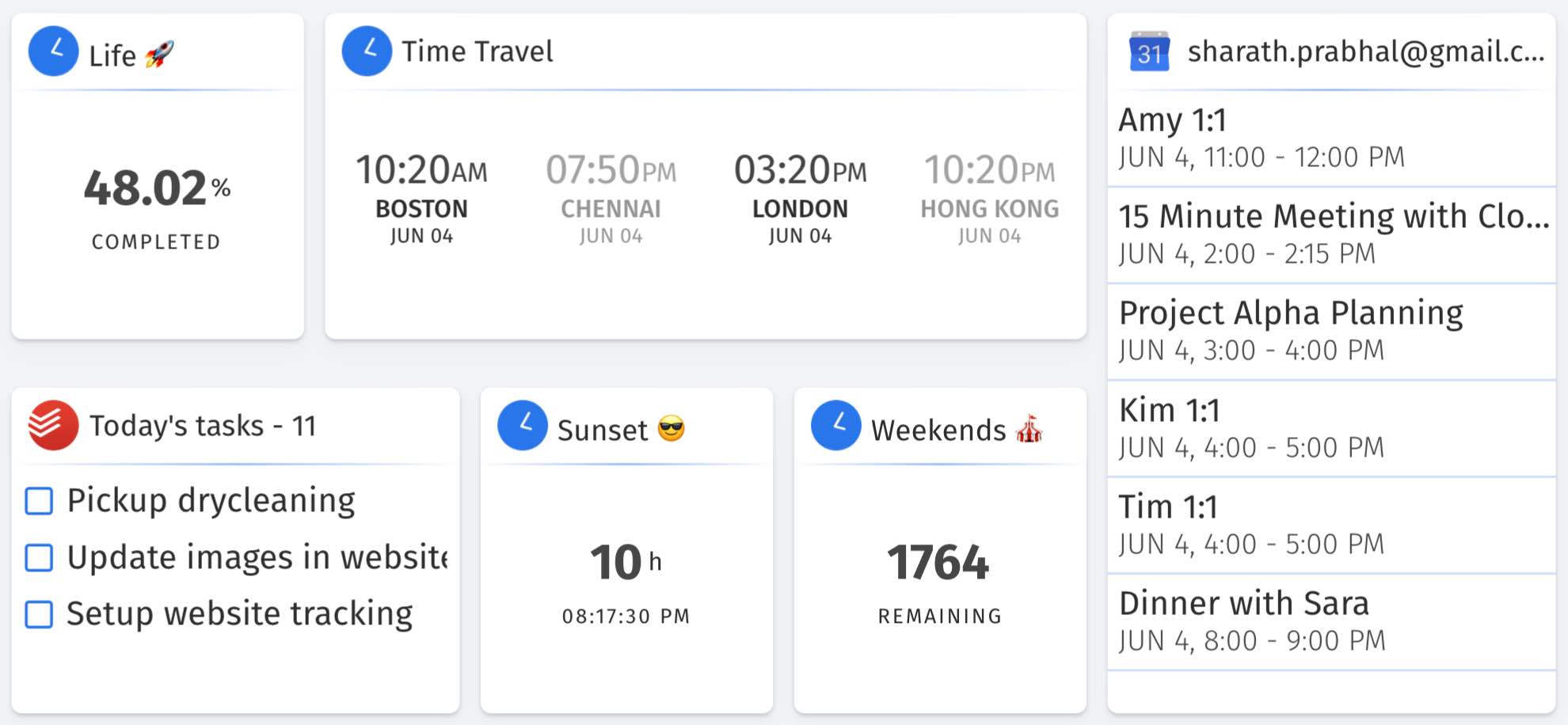 Work on multiple products across geographies? We got you covered
A holistic view of how your release and product launch is going. Details are just a click away.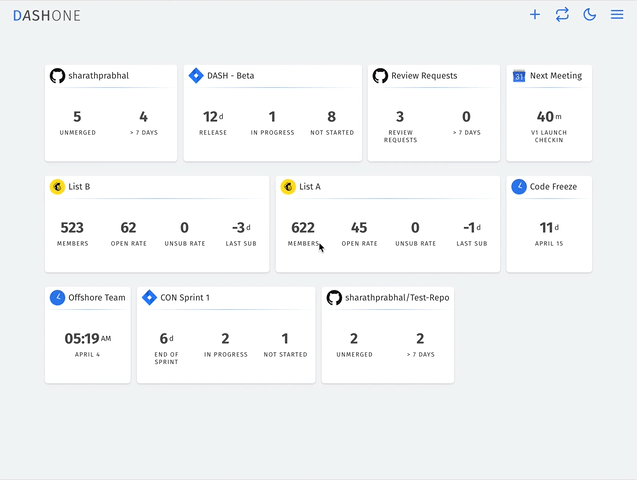 Designed for speed
Everything you need, loaded in under a second.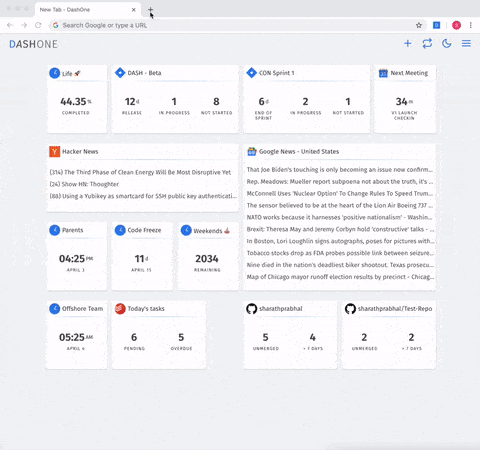 Did someone say
darkmode?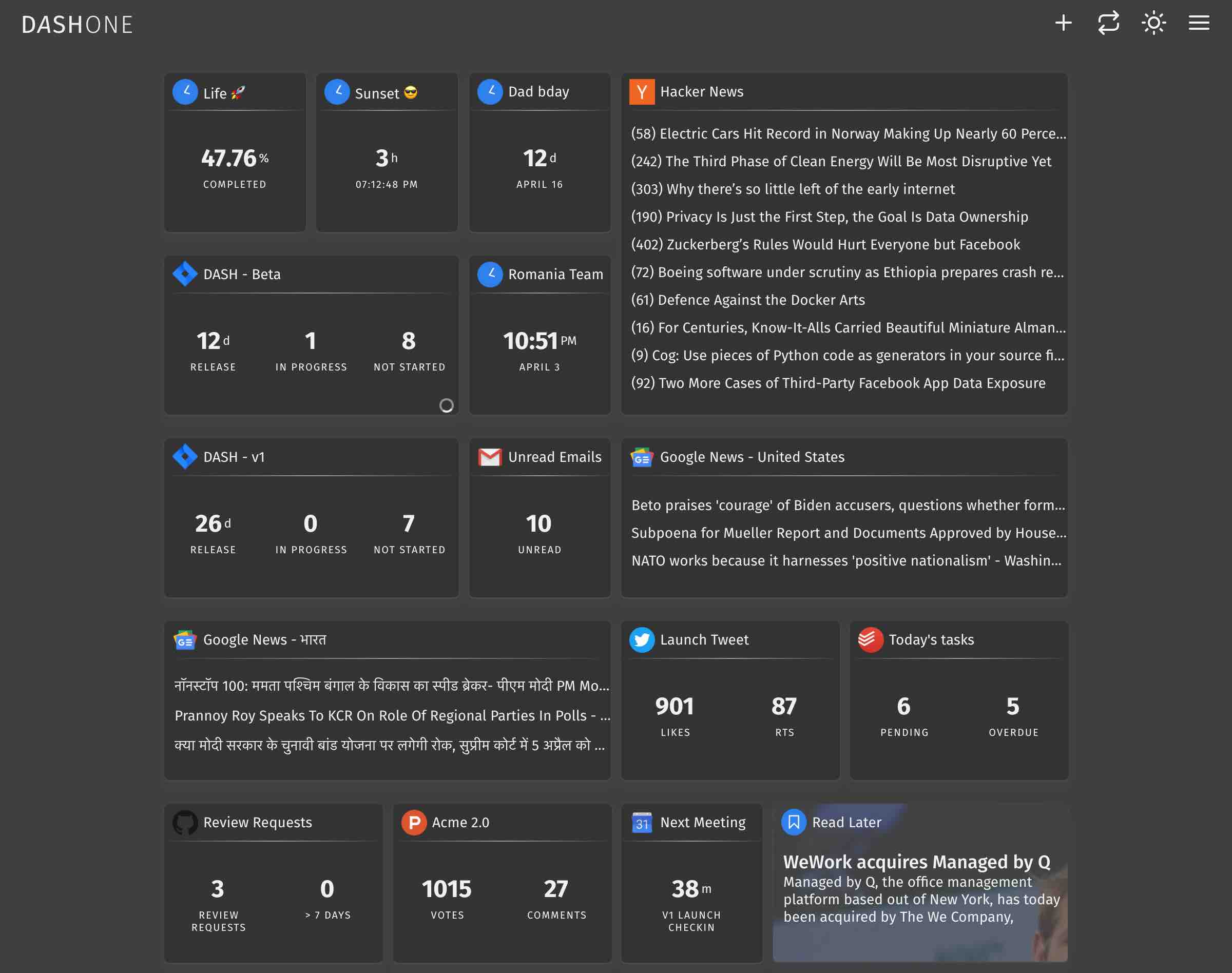 Frequently Asked Questions
What is DashOne?
DashOne is a Google Chrome extension that lets you customize your new tab with smart widgets from multiple sources. It helps you with
Data at your fingertips
Not having to open multiple tabs to access the same information repeatedly
Read about the ideation behind DashOne
.
Who should use DashOne?
Everyone! DashOne is designed with everyone in mind. Check out our
use cases
page for examples.
Why should I trust DashOne with my data?
Kudos for exercising caution! DashOne was designed with privacy in mind and here's why you should trust us -
All your data, including your access tokens are stored locally in your browser
DashOne communicates with respective integrations directly from the browser. We funnel requests through our servers only when absolutely necessary. We do not store or log any sensitive data.
DashOne is owned by an independent maker, and we have NO interest in reselling your data.
See our
privacy policy
for more info.
What apps do you integrate with?
We currently integrate with the following
Weather
Quotes
Stock data
Sunrise/sunset time
Facebook feed
Instagram feed
LinkedIn feed
Google News
TechCrunch
HackerNews
Reuters News
CNN Business News
Timezone
Date countdown
Weekends count
Top Product Hunt posts
Gmail unread email count
Outlook/Office 365 unread email count
Todoist tasks
Twitter Tweet stats
Twitter Profile stats
Mailchimp subscriber stats
Github
Atlassian Jira
Any generic RSS feed
IndieHackers quotes
Don't see something you need?
Request an integration
and we'll get it added soon.
What are 'premium widgets'?
DashOne provides a ton of free widgets that are free forever. However, there are a few widgets that cost us 💰💰💰to integrate with(eg. Stock ticker). We charge a flat fee for access to all the premium widgets.
I don't want to pay 💰. What are my options?
We understand. Unfortunately, running and maintaining an app like DashOne is expensive.
Are you a blogger or a social media influencer? If you write about us, we'll upgrade you to PRO.
Are you a teacher or work for a charitable foundation? Let us know and we'll send you a discount code.
You can reach us at
hello@dashone.app